El Hierro Volcano Update : 1st Oct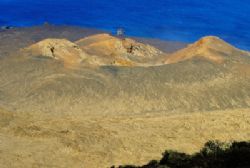 The PEVOLCA board of scientists studying the seismic activity under the Canary Island of el Hierro today decided to maintain the "Yellow Alert" status
The volcanologists noted that the earthquakes have stabilized and that the epicentres of the most recent action is moving to the south in the Las Calmas Sea. They also reported how the strength of the quakes had recently started to weaken.
With the number of seismic episodes beneath El Hierro increasing, the authorities have opted to maintain the yellow alert. This means that they see that the chance of an eruption occurring as 'possible'. However, the location of the earthquakes are still deep (mostly below 14 km), which means that we are probably not seeing the movement of magma to the surface in ready for an eruption.For the time being it seems as though magma is still moving beneath El Hierro and potentially filling a magma chamber. However, scientists on the island reminded the public that roughly only 10 percent of magma intrusions ever reach the surface as an eruption.
Residents on the island are used to seismic activity, however, the recent swarm has left many feeling a little anxious over what the next few days hold in store.
Read further news stories about the El Hierro Volcano by clicking the link HERE .