El Hierro Earthquake Swarm Approaches 9'000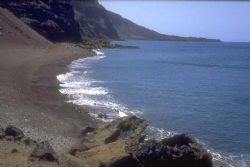 The number of earthquakes recorded on El Hierro since the recent swarm began surpassed 8'850 earlier this afternoon.
The seismic activity, which began in July, peaked this last week with an increase in both frequency and intensity.
Instituto Geografico Nacional (IGN) and the Canary Islands Government increase the state of alert to yellow last weekend over concerns that the activity may signal a volcanic eruption.
The regional government of the Canary Islands commissioned a detailed geological survey of the island earlier this month in an effort to determine the source of an earthquake swarm.
Earlier today the IGN reported how the number of earthquakes felt by local residents has now reached 55. The strongest of which was been recorded at a depth of 14km and measuring 3.8 magnitude on the Richter Scale.
Spain's national seismological agency have advised residents to be prepared for any possible future increase in volcanic activity, however, recent activity has been centred off the south coast of the island in Las Calmas Sea, whereas previous activity was generally located towards the north of the island.
Read further news stories about the El Hierro Volcano by clicking the link HERE .