AENA to Upgrade Passport Control at El Altet Airport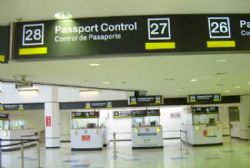 A surge in passengers travelling to Alicante from outside of the schengen area has prompted AENA to modify security procedures at the airport.
Alicante's El Altet airport opened a new 10 Million Euros Terminal building earlier this year, but the increase in visitor numbers has resulted in the need for a 400'000 Euro upgrade to the facilities.
Arrivals from Russia alone have increased by some 70% on last year, on top of an 11% increase from the UK. All non-EU arrivals are required to present their Passports upon arrival, which causes severe delays during busy periods.
The new terminal has an area of ​​335,550 m2, and has 96 check-in desks, 26 gates, 16 airbridges direct planes and 14 baggage claim belts.
The Airport's 26 boarding gates will undergo the necessary modifications, in order that they can differentiate between the two types of passengers quickly and easily.
Around 800 Passengers from Russia arrive in Alicante every week, thanks to three direct flights per week to Moscow.
The move has attracted criticism of AENA and questions have been asked as to why this requirement could not have been foreseen whilst the new terminal was under construction.