Barcelona - El Prat 'Is Becoming a Low-Cost Airport'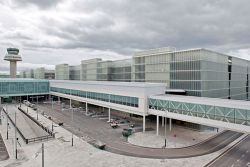 A price war at Barcelona's El Prat airport has lead to fears my some airlines that the airport is becoming a 'low cost' hub.
Three of the airports busiest airlines are budget providers : Vueling, serving some 2.24 passengers until the end of August this year, followed by Ryanair with 1.74 million and Easyjet with 1.61 million for the same period. Only Spanair managed to serve 2.24 million passengers.
The increase in popularity in tourism in the region, with 1.94 Million tourists visiting Catalonia alone in August, together with the attractive ticket prices has resulted in the airport growing to be one of the largest airports in Europe. El Prat is now just a handful of airports that serves over 25 Million passengers each year, and growth is more than that seen at Amsterdam and Munich airports.
Industry analysts note that ticket prices has been reduced by an average of 10% over a period where costs associated with fuel have increased by some 40%.
El Prat is one of the airports that is being put out to tender for operation by a private consortium and it remains to be seen how the growth and popularity of the airport will be effected.