Iberia Express decision underway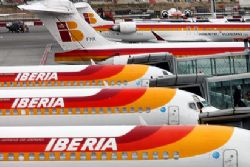 The Executive board of Iberia Airlines is meeting in Madrid today to approve the proposal to operate a separately branded low-cost carrier for short haul flights.
The new airline, Iberia express, would assume operation of 37 of the companies fleet of 69 Airbus A-320 Aircraft.
Iberia has up to now been using Vueling as means of linking short-haul passengers to their own longer-haul flights, which was only natural given their 46% stake in the low-cost carrier which came about after Vueling absorbed Iberia's poorly-received Clickair brand in 2009.
The SEPLA Pilot's union have discussed the possibility of strike action over concerns about the out-sourcing of a number of flights, and are also insisting that any aircraft that may be branded as Iberia Express would be maintained by the same ground crews.
SEPLA union members working for Air Europa have taken similar action over concerns that they have out-sourced many flights and operations, and have reduced a number of flights on Mondays and Thursdays until their dispute is resolved.
In the first half of 2011 Iberia have reported losses of 78 Million, Whereas their partner, British Airways reported profits of 210 Million. The two airlines merged last year to become International Airline Group (IAG), and any agreement made today with regards to the viability of Iberia Express will need to be approved by IAG Board members before going ahead.