Paramount 'Will be Profitable in 3 Years'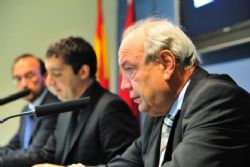 Paramount's Theme Park at Alhama de Murcia will be profitable after three years of opening, and paying dividends to investors within ten years, according to Jesus Samper. Following a meeting with the Mayor of Alhama, he then went on to address the Economic Association of Murcia, confirming that the work is expected to last about three years.
Samper, who chairs the society created between the Ministry of Culture and the Murcia Tourist board to obtain the required licences, said yesterday that it will "elevate the region to the international arena, in terms of tourism, business and wealth creation, not only for the park, but for the entire region. "
Samper refused to give any further information about the park ahead of the the official presentation in Madrid, to take place this afternoon, although he did say how the final construction was estimated to cost 1,000 million euros, on top of which the Park's Lifestyle Centre, which will house hotels, a shopping mall, a conference centre and an outdoor auditorium, would cost a further 400 Million.
He also declined to reveal the names of the investors who may stand to reap dividends after the expected ten years, declaring the information to be confidential.
However, it has been no secret that members of the Arab Investment Forum have expressed an interest in the project in the past, and continue to do so.
Samper stressed the importance of the new Corvera International Airport, within easy reach of the park, and that the location had easy proximity from the Alhama - Cartagena highway, which allowed easy communication to the major towns of Murcia, Lorca and Cartagena and the Costa.