Madrid Teachers Launch Second Round of strikes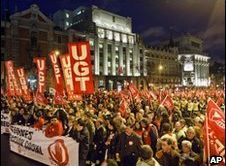 Madrid secondary school teachers launched a second round of strikes on Tuesday to protest what they say is an attempt by the local centre-right government to use the debt crisis to strangle public schools and benefit private ones.
By asking public high school teachers for two extra classroom hours a week, Madrid's regional government - run by the People's Party (PP) which is expected to win general elections in November - said it can save 80 million euros on extra staff.
Spain's ruling Socialists have implemented a range of austerity measures in the past year to avoid having to seek a bailout like Greece's, but unions fear a PP victory in November will bring even more painful cuts in a country where one in five is unemployed.
"The unions are concerned that a PP victory is really going to clamp down and not be very sympathetic to their cause in general. This is really a preventive strike in a way," Charles Powell, a historian at Madrid's San Pablo-CEU University said.
Spain, like other countries in the euro zone, is aggressively cutting spending to reduce the public deficit.
Thousands marched through central Madrid on Tuesday evening, a day after hundreds of demonstrators took to the streets in Greece to protest further budget cuts as their country teeters on the brink of bankruptcy.
Parents, teachers and students dressed in green, the official colour of the protests, waved banners in the shape of scissors as they marched into Madrid's central Puerta de Sol square.
"This isn't a labour strike against a couple of hours of extra work. We're teachers and parents who are defending a social model," a protestor named Jose Luis said.
Unions said Tuesday's strike, which was set to continue on Wednesday, had more than 70 percent participation. Teachers also went on strike for two days in September and plan a final walkout on Oct. 20.
CLASSROOM CHAOS
Spanish teachers, who earn more but work longer hours than the average for the OECD group of wealthy nations, said the change in classroom hours is just the latest in a string of measures by the regional PP government to defund public schools and drive more families to private schools.
The PP has not cut the budget for "concertados" - schools that rely on both private and public funding - and recently introduced a 900 euro-per-child tax break for tuition, books and uniforms.
"We are convinced this is not affecting the quality of education," Madrid's deputy education minister Carmen Perez-Llorca told Reuters.
But teachers and students said some class sizes had nearly doubled because of fewer support staff, that extras such as library or laboratory are now impossible, and that subjects such as mathematics are being taught by music professors.
"It's been totally chaotic," said Blanca, a 17-year-old student at Fortuny high school in central Madrid.
Half of Spaniards' income tax goes to the autonomous regions, which administer health and education spending. Yet the 17 autonomous regions are highly indebted, putting them in the spotlight as Spain tries to reduce its budget deficit.
Aside from Madrid, the northern region of Galicia has also imposed more class hours for public school teachers, while approving a 200,000-euro subsidy for public-private schools.
"Education is sacred but if they are going to cut it shouldn't be to favour the private system," said Belen Martin, a language teacher at a small rural school in Galicia.