British Ambassador : 'Corvera is Fantastic Opportunity'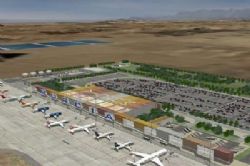 Britain's Ambassador to Spain, Giles Paxman, has commented how he believes that Corvera airport will be a 'fantastic opportunity' to stimulate British tourism in the region. He acknowledged that whilst other regions had seen increasing numbers of visitors recently, the decline of flights at San Javier airport had meant that tourism to Murcia has been suffering.
The Ambassador met yesterday in San Javier with the President of Murcia and the Minister of Culture and Tourism, Pedro Alberto Cruz, who introduced a promotional internet campaign about the mar menor area, which will begin during November.
The Minister also informed the Ambassador of a 'roadshow' which will tour a number of European cities early in 2012, and which will focus on promoting It will focus on golf, which is seen as being one of the biggest attractions for the region.
The ambassador also met with government delegate, Rafael González Tovar, who noted that 90% of flights at San Javier originate from the UK.
Ambassador Paxman, who was accompanied by the British consul in Alicante, Paul Rodwell, recalled that the number of British residents in Murcia has doubled in the last decade. However, Whilst 23,000 are registered as being permanent legal residents in the Region, Paxman estimated the actual number of Britons may be between 40,000 and 50,000, since many of them spend at least half of the year in Murcia and not come in contact with consular authorities to notify temporary residence in the community.