Launch of Iberia Express Airline Approved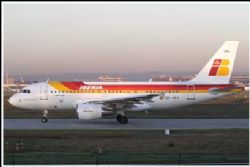 International Airlines Group (IAG), the company created from the merger of British Airways and Iberia, have announced their final decision to launch a new subsidiary - Iberia Express - from summer 2012 in a bid to boost margins on Spanish short- and medium-haul flights.
The new airline is being created to provide a more competitive service in the domestic and European market in response to an improvement in the high-speed rail network and other lo cost carriers - notably Ryanair and easyJet, who both have bases at Madrid's Barajas and Barcelona's El Prat airports
Ryanair and EasyJet have a large and growing domestic and European network, and have overtaken Iberia as the two largest airlines with operations between Europe and Spain. last year Ryanair alone flew more passengers in and out of Spain than Iberia and Vueling combined, however Iberia sill retains the majority of the domestic market.
Iberia have pledged to continue with their existing relationship with Vueling and regional carrier Air Nostrum , however with regards to Vueling, in which Iberia are 46% shareholders, questions have been raised about how this should be done. The CEO's of both companies have spoke of the importance of continuing their relationship 'for strategic if not financial reasons'.
The new Iberia Express division will operate as part of Iberia's short- and medium-haul network from Barajas, which already has 24% of its system capacity served by low cost carriers. The airline will use a fleet of A320s in a two-class, business/economy configuration and provide short and medium haul flights as well as connecting flights to feed into long haul flights with Iberia's mainstream brand.
Services will launch with 4 aircraft, rising to 13 by the end of 2012, and will employ a workforce of about 500, with all maintenance and ground services being handled by Iberia.
The Pilots unions, SEPLA, has is still threatening strike action over concerns about out-sourcing, stating: "The creation of the new company is illegal, violating the agreements signed with Iberia in connection with the merger".
Iberia's CEO promised that no Iberia employee would lose their jobs following the creation of Iberia Express. "Now they've heard our plans, I believe they have no reason to call a strike because the project has no effect on agreements we already have with the Iberia workforce and no Iberia worker will lose their jobs," he said. He went on to say how two different Lawyers studied the agreement and confirmed that Iberia can move forward with its plan.
The pressure that Iberia has come under from low cost carriers has resulted in a €78 Million loss in the first half of this year, compared to BA's €210 Million Profit.
Iberia tried a similar move towards a low cost airline with the launch of Click Air in 2006, however the brand was unsuccessful and was taken over by Vueling just 3 years later in exchange for a 46% shareholding in Vueling.