Corvera 'Won't be open until October 2012'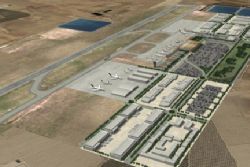 The UGT met with the workers at San Javier airport, and have promised to defend every last job in the event of the airport closing in favour of the new airport at Corvera. The UGT Union hopes that all of the 300 direct and indirect jobs at the airport can be transferred.
The Head of the UGT Union, Federico Lombardo, and Raul Gomez, Chief Union representative at AENA, met with the general secretaries of the TCM union, the Federation of Services (FES), and Public Services Federation (PSF), to discuss the move.
Lombardo also recalled that the UGT had predicted that San Javier airport may be forced to close when speculation about a new airport being built at Corvera first cam to light some eight year ago.
However, Lombardo also claimed that AENA has confirmed that it is impossible for Corvera to be fully operational by March 2012, and that it is more likely to be October at the earliest, following significant structural changes being being to the original design and certain air navigation and procedural issues that still need to be completed.
AENA have also confirmed that the 81 direct employees at the Airport will be transferred, however the union is still in negotiation with all concerned at the new airport to find a solution with regards to employment for the 300 plus indirect workers at San Javier.
Nicolas Vicente Carrion, general secretary of TCM-UGT, criticized "the lack of promotion that San Javier has always struggled with in addition to competing against a new airport, which has seen Ramón Luis Valcárcel, giving a guarantee of 270 million euros to Corvera for its construction and commissioning. "