El Hierro Earthquakes : 9th October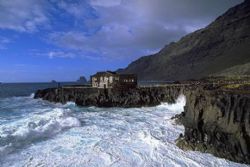 A Total of 55 earthquakes occurred on the island of El Hierro between twelve o'clock on Friday Night and nine o'clock on Saturday morning.
At 11.50 pm three consecutive activities registering between 3.2 and 3.6 degrees shook the the villages of El Pinar and La Frontera.
Given it was the start of the weekends, many residents were still awake and as such an increased number of residents reported actually feeling these quakes.
Just before noon on Saturday a further series of activities in just a five minute window of time. The first, at 23:52, measured 3.2 magnitude at 12 km depth, the second, thirty seconds later, 3.6 degrees at 11 km depth and the third, 3.4 degrees, at 23:56 pm at the same depth.
The 24 Hour period covering Friday to Saturday marks the busiest period of activity since the recent earthquake swarm began and heightens concerns that the magma sphere is moving towards the surface of the island.
Whilst they have maintained the 'Yellow' state of alert, The Canary Islands government has issued a detailed statement advising residents of precautions that they should take in the event of an increased level of seismic or volcanic activity.
Over the last 7 days the Geographic Institute (IGN) has recorded a total of 890 earthquakes, most of them situated in the sea southwest of the island, with 76 of them being of sufficient strength to be felt by local residents.
This recent activity no brings the total number of earthquakes recorded in this latest swarm to 9819, with the main epicentres being to the north and south of the NW ridge and depths between 10 and 15 km.
The total number of quakes felt since the recent swarm began now stands at 133.
However, I found this clip with a prediction of what 'may happen' if Volcanic activity erupted at nearby La Palma.
Read further news stories about the El Hierro Volcano by clicking the link HERE .