AENA privatisation being observed by Competetition Commission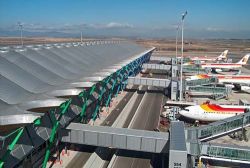 The financial incentives surrounding the privatisation of a number of AENA airports could result in a number of inefficiencies and competitiveness of of certain airports, according to a report issued by the National Competition Commission (CNC).
The report focuses on Madrid-Barajas and Barcelona-El Prat airports and expresses concerns over what would be a change in Management, which would result in Spanish airports working independently of each other.
The CNC expressed an interest in monitoring the situation and has apparently spoken to the European Commission about their concerns. It also highlights the fact that the EC was not notified of this move under the general rules of state aid, which, they claim, suggests that the move does not have public support.
The report also looks at public funds received by these airports between 2007 and 2011 through advertising and promoting tourism and stresses that there are a total of 13 airports that have not been beneficiaries, either directly or indirectly, from such promotional campaigns.
Most of these airports are smaller regional airports, with the notable exception of Barcelona-El Prat, and to a lesser extent, Seville and Bilbao.
Just 16 of the countries airports were deemed to have benefited in any way from public spending on promotional campaigns - mainly Zaragoza, who received an equivalent of 34 Million Euros in promotional advertising between 2007 - 2011.
This sum is in excess of that received by the region of Castilla y León because the value had to take into account the region's four airports : León, Burgos, Salamanca and Valladolid.
The Commission considers that promotional support is of more value to regions such as Cantabria, Extremadura or Asturias, who have just the one airport as opposed to regions with multiple airports.