Paramount Murcia : Details of Park Attractions Released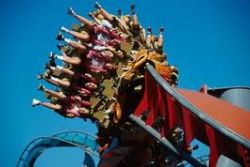 Paramount Pictures latest theme park at Alhama de Murcia will feature four seperate areas, each themed on adventure, fantasy, the future and the American Wild West as well as a main entrance promenade.
The street leading into the park from the main entrance will be known as Paseo Paramount / Paramount Promenade, and will feature a city streetscape that feeds into a central area sitting on a lake. The entrance will also feature a replica of the Bronson Gate at Paramount Pictures in Hollywood.
There will also be an area where visitors can stop and take in a show called 'Paramount Live' and will feature a rock 'n' roll show with a live band.
The 'Hub', or central area may also include some kind of ride or show based on the "School of Rock" movie starring Jack Black .
One of the main four areas will be 'Adventure City' and will be set in a 1950's American Town, complete with teenagers in period dress performing period classic music and with Classic American Hot rod cars.
Attractions are expected to include :
Grease Lightning : Traditional bumper cars designed to look like 1950s-era hot rods.
Titanic : The Exhibition - Visitors pass through a museum-like queue that tells the history of Titanic before boarding lifeboats for a special effects show depicting the sinking of the renowned ocean liner. Other Titanic exhibits include re-creations of key movie scenes and a display of the tools and techniques employed in the hunt for the ship's remains.
Mission : Impossible : - Visitors waiting in the queue are recruited as sleeper agents before climbing aboard a military-style vehicle for a 4D special effects ride through action scenes inspired by the Tom Cruise movies. The ride appears to employ motion based simulator vehicles similar to the Amazing Adventures of Spider-man at Universal's Islands of Adventure theme park in Florida.
Italian Job : - Based on the 2003 remake starring Mark Wahlberg and Charlize Theron, the themed coaster with three launch zones turns visitors into stunt drivers. Riders sit in Mini Cooper-styled train cars as they dodge near-collisions, narrowly avoid explosions and escape gunfire from a hovering helicopter.