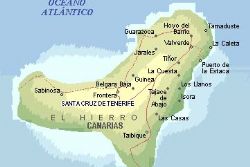 Following on from Yesterday's increased seismic activity, a further two earthquakes were recorded earlier today by the National Geographic Institute (IGN) southwest of El Hierro after what appeared to be an underwater volcanic eruption about 5 kilometers from La Restinga in the municipality of El Pinar.
T
The Earthquakes registered 1.6 on the Richter scale at 12 kilometers deep, and the second with a magnitude of 2.3 and depth of 19 kilometers.
The underwater eruption that occurred yesterday does not pose any threat to the residents of El Hierro and the Yellow state of alert remain unchanged.
Maritime traffic is still continuing in the area, although an exclusion zone of four nautical miles around the site of the eruption has been recommended.
Residents on the island are reporting a slight change in the sea and tidal patterns, and the eruption has caused slight changes on the surface of the island due to the build-up of pressure of the magma beneath the surface. Various agencies are reporting that the eruption occurred between 1300 and 2000 mts below the surface.
It is also believed that the fact that there has now been an eruption could decrease the seismic activity and scientists are studying the information available to analyze activity over the coming hours and days.
Read further news stories about the El Hierro Volcano by clicking the link HERE .