Alicante Airport Passenger Numbers Reach Record High in September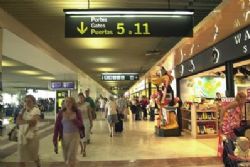 Monday's report by AENA has shown how passenger numbers Alicante airport grew by 7.7% in September, serving more than 1 million passengers.
Figures reached 1,050,427 passengers who flew to Alicante's El Altet airport on 7485 flights, representing an increase of 3.7% .
The report, which gave performance data for all AENA airports, noted how September was the first ever month in which passenger numbers had exceeded 1 Million, and that it was the fourth consecutive month of increasing figures.
For 2011 until September, a total of 7,915,056 passengers travelled through El Altet - a 7.4% improvement on the same period in 2010, with a total of 60,224 flights, representing a 3.5% increase over the same period.
By Nationality, some 492,568 British passengers flew in to Alicante in the first nine months of this year, representing an increase of 14.6%, followed by Spaniards flying on domestic flights, which came in at 177 939 - a rise of 1.3%. Other notable mentions were the Germans who, although numbered 72'478, represented a decrease in number by 15.2%. Dutch passenger numbers increased by 24% to reach 52'785.
Scheduled flights to the airport made up less than 5% of the total, numbering 429, with 6979 being charter flights.