Passenger numbers plummet at Reus and Girona airports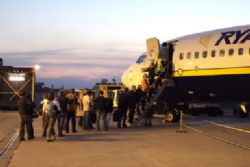 Girona and Reus airports saw declining traffic during September by 39.5% and 15.9% respectively, largely due to Ryanair moving their focus away from Catalonia's smaller regional airport in favour of their hub at Barcelona's El Prat airport.
A spokesman for AENA told the press how the 39.5% fall in traffic at Girona was down to Ryanair cutting a number of routes and reducing the frequency of flights on those that remained in place.
In total during September Girona airport flew some 305'622 passengers and handled 2'367 flights - 36.8% less than than the same period in 2010.
Activity at Tarragona's Reus airport fell by 15.9% over the same period in 2010, again due to a fall in demand by Ryanair, but also by a decline in use from other tour operators. During September Reus processed 186'407 passengers on 2'125 flights, a decline of 0.8% on the same period in 2010.
In contrast, 3,338,101 passengers flew to Barcelona's El Prat airport representing a 17.7% increase on the same period last year - the third largest percentage increase for any of AENA'a airports.