563 New Positions Available at Corvera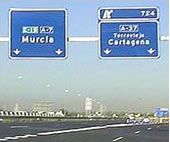 The Murcia regional authorities will begin 11 training courses for the 563 future employees of Corvera International Airport as soon as the official opening date is announced. Although this was initially announced in April through Ministry of Education's Training and Employment Service (SEF), it was confirmed yesterday that 1'100 candidates would be chosen from the 24'000 applicants, but only half of this number would be offered permenant positions, with the other half being offered temporoary casual positions.
Although Aeromur and AENA have not been able to finalise any agreement on the relocation of the 83 direct employees at San Javier airport, aswell as the 300 indirect employees, plans to start the 11 different staff training programms have been set in motion.
Of these 11 different programs for 563 Employees : 160 billing and check in staff, 93 Supervisors and ramp agents, service operators & auxiliary fuel air cargo and mail as well as cleaning services, 80 security Staff, 67 firefighters and 20 maintenance, catering, care for the disabled and administration staff.
Whilst the Ministry has stated that everything will be done to accomodate the employees currently under question at San Javier, the SEF counter that the 563 Employees and positions available at Corvera are not flexible.
The CCOO Union has asked tfor the process to be stopped until the future of the San Javier staff can be clarified. The CCOO Secretary General commented "we called halt the process because it is a bad option to generate expectations of work not be produced, for assuming the staff of San Javier may no longer much needed jobs. " Well defended the integration of 100% of the staff of San Javier at Corvera, "since the closure would leave unemployment, and not to destroy the country as employment is qualified," and hopes that the negotiations were closed before the elections of 20-N, "for I know there will."