New Terminal at Lavacolla Airport Opens Tomorrow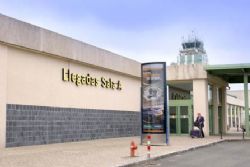 AENA has confirmed that the new terminal at Santiago de Compostella's Lavacolla airport, which opens becomes operational tomorrow morning at 06.50 am with an Iberia flight to Madrid.
The Ministry of Public Works has invested a total of 230 million euros since work on the terminal began in 2009, and will allow the airport to handle up to four million passengers per year, and will increase the operational capacity of 1,300 passengers per hour - rising to 2'500 at peak times.
The footprint of the airport will also triple, from a total of 23,000 square meters to 74,000.
The new terminal will include the passenger processing area, the loading dock, a new parking garage, new access roads and the expansion of aircraft parking area and a new power plant.