Two Further Eruptions on El Hierro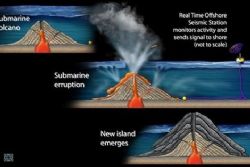 There have been reports of a further two volcanic eruption this evening (Wednesday), southwest of Punta Restinga on the Canary Island of El Hierro. The Director General of Security and Emergency for the Canary Islands Government, Juan Manuel Santana, confirmed that the events were also accompanied by a sulphurous smell and a number of dead fish floating on the surface of the water surrounding the area.
The DG added that one eruption is located 750 meters underwater and two miles from the coast, one and another, 500 meters underwater and half mile away from the coast of la Restinga.
According to Santana, the two eruptions coincide with the results shown on the seismic charts over the last two hours, which reveal a reduction in tremors, which generally indicates a reduction in pressure of magma underground.
For now, the state of alert around the village of La Restinga remains on red alert, and the residents of the town remain unable to remain to their homes.
Read further news stories about the El Hierro Volcano by clicking the link HERE .