Plan to extend Burgos airport to be finalised by end 2011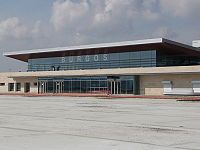 The impending general elections do not seem to be affecting AENA's plans to make reformations to Villafria airport at Burgos later this year, with one unnamed source expecting the plan to be fully approved by the end of 2011.
2011 marked the tenth anniversary since AENA assumed sole control of the airport, with the government conisdering the irport to be socialy and economicallt important for the the region of Castille y Leon.
The planned upgrade of the airport has been considered partly to react to the increasing demands of air traffic and transport requirements in Spain, but also to the requirements and needs of its users and the environment.<./p>
The plans itself has been made with planning criteria "based on strategic objectives and traffic forecasts for a period up to the year 2015".
Ten years after the Ministry of Development approved the prtoposal to expand the Villafrķa runway to allow for international operations, and it finally looks likely that the airport will be able to offer a good range of international routes throughout the year. The Consortium for the Promotion of Burgos Airport introduced an extension study around a year ago, in which it was estimated that the 1km extension of the runway alone would require an investment of 32.8 million euros.