El Hierro President Calls for Immediate reopening of tunnel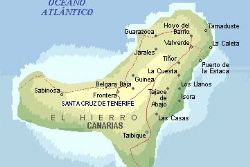 Authorities on the Island of El Hierro called on the Regional Government of the Canary Islands to reopen the Roquille Tunnel, which has been closed since Sept. 27 due to the threat of landslides as a result of seismic activity.
The President of the Cabildo de El Hierro called an urgent meeting between all government and scientific agencies who have been involved in the sitaution, with th objective of diagnosing the issues of greatest concern to the residents of the Island.
tion to keep the tunnel closed or open to vehicular traffic by the Directorate General of Security and Emergency of the Canarian Government.
Various scientists and politicians have discussed the economic and social impact that the tunnel has on the island, which accomodates some 2'400 vehicles per day, and has argued for the tunnel to be reopened with immediate effect.
The President of the Cabildo issued a statement calling the situation "unsustainable" and adds that there is less risk for those using the tunnel than there is by being forced to take an alternative route around the island, snaking over the peaks on secondary back roads where landslides are much more likely to occur.
Read further news stories about the El Hierro Volcano by clicking the link HERE .