Next Eruption on El Hierro 'Hours Away'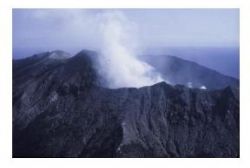 Scientists and observers on the Canary Island of El Hierro are expecting further seismic activity and volcanic eruption over the next few hours, according to reports by experts.
After the two undewater volcanic eruptions earlier this week, the number of earthquakes that have recorded on the Island has been reduced significantly. But the concern continues because the data that predicts the occurrence of volcanic activity is not complete and likely to produce a new volcanic eruption. According to the Centro Superior de Investigaciones Científicas (CSIC) the next eruption could occur on land. The question now is where the next activity will be and when
Professor Ramon Ortiz from the Center for Scientific Research (CSIC) commented yesterday that the only thing that can be said about the situation is that it will result in one of three things: the fissure which the magma will escape from will move south, to deeperwaters; that fissures will open further inland and twoards the coast of La Restinga; that new fissures could open up on the Island itself.
The count of earthquakes since the recent swarm began in July has now surpassed 10,000, and both the Canary Islands Volcano Institute and the National Geographic Institute (IGN) agree that the activity has not ended.
Read further news stories about the El Hierro Volcano by clicking the link HERE .