AENA Fine Ryanair 1 Million Euros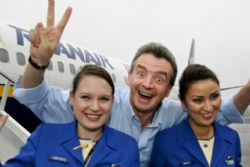 In 2009 AENA fined Rynair a total of 1 Million Euros for breaching their agreement on the number of flights that would operate out of Alicante's El Altet airport. A similar fine was imposed on Vueling in 2007 with regards to El Prat airport in Barcelona.
AENA's Airport Coordination division found that between March and October of 2009 a number of violations had been committed by Ryanair with regards to El Altet airport. The law stipulates that any breach of agreement can result in fines of between 3,000 and 30,000 euros per flight.
AENA has requested the opening of a file, which contains over 50 further alleged violations, which could result in further fines of between 150'000 to 500'000 Euros being imposed.
However, AENA had decided not to proceed with investigating around 60 cases, with an estimated fines of between 180,000 euros and 1,800,000 euros, meaning that not all violations were eventually reported to the regulatory body (EASA) .
The discplinary period could be applied to 2010 so not to coincide with the period in which Ryanair received subsidies that encouraged the airline to carry more passengers in 2010 than it did in 2009.