More Scientists to arrive on El Hierro to observe Volcano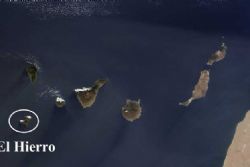 There has been no further seismic activity of note on the Canary Island of El Hierro, however the Island as a whole remains on yellow alert and the village of la Restinga remains on red alert. Satellite pictures show evidence of the two underwater volcanic eruptions as a green 'stain' drifting away from the south-west coast of the Island.
A ROV (Remotely Operated 'underwater' Vehicle) is scheduled to arrive in El Hierro on Monday to undertake a seabed study.
The stain is still evidence of Wednesday's eruption and not that any further eruptions have taken place.
A research boat belonging to the Canarian Institute of Marine Sciences, Professor Ignacio Lozano, arrived at the Island on Thursday to begin collecting samples from the seabed and is analyzing the behavior of volcanic magma already rising to the seabed through the fissures.
The team was also joined by three researchers from the National Institute of Geology and Mining .
Elsewhere on the Island, around 200 people demonstrated on the streets of Tigada demonstrated against the refusal of the Regional Government to reopen the main tunnel on the Island. On Wednesday the President of the Cabildo called for the immediate reopening of the tunnel due to the social and economic impact that it's closure was having, and the fact that the increased volume of traffic being forced to take an alternative route was putting more people in more danger.
Read further news stories about the El Hierro Volcano by clicking the link HERE .