El Hierro supplied with extra troops and resources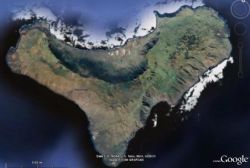 The Regional Government of the Canary Islands has mobilised a unit consisting of 16 troops (thirteen policemen, two officers and a deputy) and four vehicles (two trucks, one jeep and a patrol car) to facilitate the return of the residents of La Restinga, as well as being on hand to assist in any further evacuation if required.
Meanwhile, the telecommunications infrastructure on El Hierro has been improved in the event of further volcanic activity on or close to the island resulting in further evacuations being required.
Three stations have been implemented at Taibique, La Peña and San Andres in order to monitor the situation, with a further mobile unit being available. It has also installed a radio link from Afoba to La Gomera and a VSAT satellite link from Valverde.
Furthermore, Telefonica have responded to the request of the regional government and installed an Advanced Command Post at San Andres, along with 6 extra landlines, with an extra 2 lines for the sports center of Valverde, which is being prepared as a potential evacuation post, with a further extra line being provided for the Island's Hospital.
Read further news stories about the El Hierro Volcano by clicking the link HERE .