Minister of Public Works to Discuss AVE Train Network in Brussels on Weds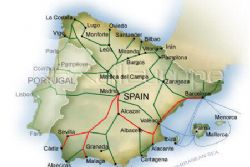 Later this week the Minister of Public Works, José Blanco, will meet with the EU to discuss the proposal to improve and extend the current AVE high-speed rail network running across the country, and which has been earmarked as a 'priority project'.
The project itself has been split into 5 different 'zones' or lines, which are each considerable projects in their own right.
One of the biggest difficulties that the Spanish central government have had in implementing the project so far is the relationship with the various regions. The largest of all the zones is the 'mediterranean corridor' line, which crosses a number of Regions and in which talks have often become problematic.
Central Government see the Mediterranean corridor route, which will connect Algeciras to the French border, as being of great importance to Spain. 610 of the total 1838 Kilometer network - some 40% - will be dedicated to this one line at a total investment of some 50'000 Million euros, of which 10'000 million has been spent already.
Another priority has been placed on the Cantabrian-Mediterranean Corridor, linking the Basque Country and Valencia through Zaragoza, which has been spoken of as hub of rail operations.
The Atlantic-Mediterranean Corridor, which connects Valencia on the east coast of Spain to Sines in Portugal, the central axis from Algeciras to Sines, Lisbon, Madrid and Zaragoza before heading up to the Frenchborder, and finally the fifth line, which links the Bay of Biscay at the French border to Porto.
Passengers will be able to use the high speed lines between Barcelona and the French border by 2012, between Alicante and Murcia by 2014, and between Valencia and Castellon by the end of 2014, which is why the Mediterranean route more than any other has been the 'flagship' route spoken of in any correspondence with Brussels.