El Hierro Earthquakes Reach Tenerife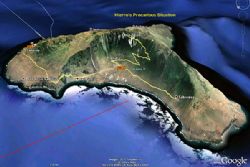 So far today the National Geographic Institute (IGN) has filed a total of 9 earthquakes in the Canaries, of which 7 have occurred on the island of El Hierro, at a depth of between 2 - 8 miles deep.
The first two quakes were recorded at the southwest and west of El Pinar at 1:29 am on Monday, with the second coming just 2 minutes later, at magnitudes of 1.6 and 1.5 degrees on the Richter scale.
A further earthquake occured just an hour later at a depth of 22 km and registering 1.9 on the richter scale in the town of Frontera.
Two further quakes happened in the sea between Tenerife and Gran Canaria, with another in the town of Buenavista del Norte, which measured 1.8 on the richter scale.
This afternoon's seismic activities are the first time that any tremors in the latest earthquake swarm have extended beyond the tiny island of El Hierro.
The latest earthquake recorded today struck at 15:55 hours at la Frontera.
Read further news stories about the El Hierro Volcano by clicking the link HERE .