New Lavacolla Terminal Welcomes 7 Unscheduled Rynair Flights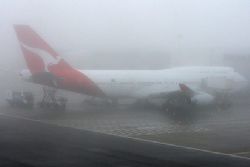 Less than 1 week since the new terminal building at Lavacolla airport, Santiago de Compestella, opened and it was put under pressure over the weekend with the arrival of seven unscheduled flights.
The new Terminal, which was officially opened on Thursday of last week accepted a total of seven Ryanair flights between Sunday and Monday morning that had to be diverted to the airport due to poor weather conditions at their original destination, Porto.
The flights from London, Liverpool, Brussels, Tenerife, Paris, Milan and Bremen that should have landed in Porto were forced into landing at Lavacolla, with passengers then being transferred by coach to their final destination, some 240km away.
Passengers waiting in Porto experienced delays of up to eight hours at home, however in some cases their flights were cancelled altogether, offering the ticket holder an alternative flight or a full refund.
Around 1'000 passengers were thought to have been affected by the unscheduled landing.
A Spokeswoman for AENA told the press that certain low-cost Airlines may like to consider reviewing their scheduling to the region's airports as fog is not uncommon at this time of year.