Mayor of San Javier meets with Airport union representative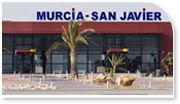 The mayor of San Javier, Juan Martinez and the Regional Minister for Commerce and Transportation, Pedro López yesterday met with San Javier airport's CCOO represntative, Antonio Lucas Jimenez, to discuss the impact that the closure of the airport would have on unemployment.
The Mayor reassured Jiminez how "all efforts are focusing on trying to support and defend the workers : employees of AENA and indirect jobs, with the possible relocation of the regional airport at Corvera."
The mayor has already had meetings with the Minister of Public Works and Planning, Antonio Sevilla, over concerns that a satisfactory conclusion needs to be fpund with regards to the indirect jobs that stand to be lost after the closure of the airport, as AENA have guaranteed future employment for direct employees at the new Corvera International airport.
According to Sr Jimenez, the number of indirect employees at the airport of San Javier could reach as many as 600 employees. All parties at yesterday's meeting agreed that future focus should fall on the issues surrounding employment rather than the practicalities of moving the facilities from San Javier to the new airport at Corvera.