El Hierro fishermen face unemployment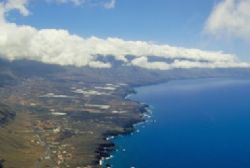 El Hierro's fisherman, together with Marine Biologists studying the effect of the recent underwater volcanic eruptions are concerned that it may take up to a decade for the ocean in the immediate vicinity of the activity to recover.
The Island is thought to be home to around fifty families who rely on fishing for the livelihoods, with forty-some being permenant fishermen on el Hierro, and seven being seasonal or temporary workers.
Concerned about the effects that intensive fishing methods had on the envirnoment, they themeselves instigated a complete change of fishing methods in the area some fifteen years agao, and as a result of this the Canary Islands Regional Government identified sustainable fishing reserves around the Islands in order to protect future stocks.
However, the recent volcanic eruption has contaminated the area with sulfurous and magmatic material which has resulted in large numbers of fish being killed. There are also fears of the pollution reaching and contaminating the beaches, together with the volcanic gases causing problems with the air quality on the island in the short-term - all of which will have an impact on tourism.
At the moment the best that scientists and fishermen can hope for is that the area affected by the pollution arising from the 'stain' is left for a full fishing season in order to take a period of 'biological rest' to allow the sea and fishing stocks to recover. However, this will cause a massive hike in unemployment on the island, with an enormous knock-on effect on the economy overall.
Read further news stories about the El Hierro Volcano by clicking the link HERE .