What to do with Huesca Airport ?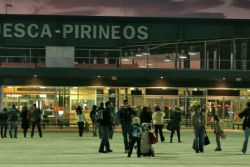 The appointed representatives of the Regional Government of Aragon will meet on Nopvermber the 15th in order to discuss what should be done with Huesca airport.
The Regional Minister of Public Works, Town Planning, Housing and Transport, Rafael Fernández de Alarcón, will attend, along with the mayor of Huesca, Ana Alos, to address the common interests of local, regional and national governments, a statement read.
"There are already two companies interested in working at the airport of Huesca," said Fernández de Alarcón, who has already suggested that the airport would best be suited to becoming a school for pilots.
The Minister made this proposal to the President of AENA, Juan Lema, at their last meeting on October 5, although alternative proposals will be discussed.
Another possibility that the Minister hinted at, was the suggestion that the airport could be used as being a central hub for transporting air cargo between Spain and the rest of Europe.
The airport has been widely criticised since it's opening in 2007, where regional authorities hoped to attract skiers to its slopes (despite the much busier Zaragoza airport being located just 30 minutes away), even subsidising the now defunct airline, Pyrenair.
The airport welcomed just 6,228 passengers in the whole of 2009, with estimates being that each passenger represented a cost to the government of 700 euros each. Losses for 2010 came to 6m Euros.
The last commercial flight left in April 2011,with the next not scheduled to land until Jan 2012. But the fully staffed airport still attracts visitors – locals drive out to the airport to dine in its air-conditioned cafés and restaurants.