UK Paedophile on run in Spain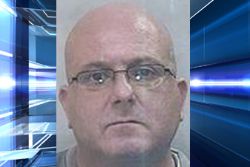 A convicted Paedophile from the UK has evaded the authorities and is on the run in Spain.
Dominic Steven Powell, is still wanted by South Wales Police and CEOP (Child Exploitation and Online Protection Centre) for failing to notify authorities of a foreign trip, which he must do as part of his reporting requirement as a 'very high risk registered sex offender'.
Powell, who is 48, is described as stocky, balding and speaks with a strong west-country accent.
Crimestoppers and SOCA (Serious Organised Crime Agency) have had considerable success over recent years in identifying and arresting wanted criminal through their 'Operation Captura' initiative. Operation Captura relies as much on the cooperation of the Spanish authorities as it does expat vigilence in arrested wanted criminals.
Of the 60 named Criminals named in Captura's five year history, 46 have now been apprehended.
In the past Powell has approached and harrassed vulnerable single females with children.
Crimestoppers urge anyone with information to call a special Crimestoppers hotline 900 555 111