Region of Galica announces cutback on airline subsidies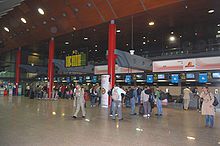 Just one week after the official opening to the new terminal at Santiago de Compostella's Lavacolla airport, and the regional government of Galicia has announced it will withdraw subsidies paid to airlines for the foreeable future.
However, the Partido Popular administration has signed a contract with Ryanair until 2013, ignoring criticism from Pontevedra entrepreneurs who believe that they are actually damaging business at other airports in the region. This move will represent a total of nine years in which the region has paid subsidies to the airline.
Agustin Hernandez, the regional Minister for Infratructure, commented that "a responsible budget policy is to pursue that airports are profitable by themselves." A policy which the Ministry of Development are also in agreement with.
Flights from Lavacolla to London and Frankfurt are the two main routes which the region subsidises, however Ryanair has also been receiving funding for routes to Rome and, up until recently, Milan.
The Minister suggested that there are other ways in which routes to Vigo and La Coruņa could be promotes, but did not gove details as to how this could be acheived or what routes would be covered.
The regional government of Galicia spent over 3 Million Euros in 2011 in subsidings flights to the regions airports : 1.2 million for Peinador (Vigo), 1.05 million for Alvedro (La Coruna) and 882,000 for Lavacolla (Santiago de Compostella).