Air Berlin Criticise Ryanair Subsidies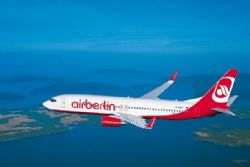 Air Berlin's Head of Operations for Spain and Portugal has hit out at the subsidies granted by the various regional authorities to Ryanair, which he says "eliminates competition and pomotes blackmail."
The comments were made after a press conference yesterday to present the company's campaign for the winter season, where Alvaro Middelmann criticized the funds received by the Irish company to "Subsidise a Spanish Holiday".
This, he said, meant that only low cost airlines could afford to compete, and called upon the Government to "defend the airline industry more Spanish because its policy is disastrous."
According to data provided by AENA, Air Berlin has seen a decline of more than 37'000 paseengers at Seville airport in the first nine months of 2011, compares to the same period in 2010 from a total of 138'000.