Air Europa Pilot Strike Forces 31 Cancelations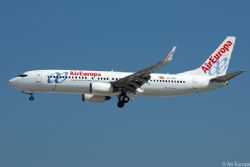 Air Europa has canceled a total of 31 flights today as a result of the on-going strike by their pilots - 96% of which are members of the SEPLA Pilots union.
The strike, which has been held on every Monday and Thursday for the last four weeks, was still able to operate 226 flights from Spanish airports, with 26 of the 31 flights canceled from the schedule a number of days ago. Four of the remaining flights were canceled at Palma airport and one at Vigo.
SEPLA sources and the airline confirmed that there had been no change in position, nor was there any planned meeting between both parties to try to resolve the issue caused over pilot's concerns over the outsourcing of a number of flights.
SEPLA reminded the airline that further to their previous meeting on 29th September, they only have until October 28th to meet in order to negotiate a new agreement.
Unless the issue can be resolved, Pilots have agreed to continue with the strike action until the 31st December, after which there will be a 14 month 'Period of arbitration'.
The 'indeffinate' Pilot's strike began on September 22nd and has since called "unsuccessful" after several meetings with the company. The President of Air Europa, Juan Jose Hidalgo, countered that they too would hold out "indefinitely" and hired a law firm to liase with the union.