AVE Train to link to Corvera and Paramount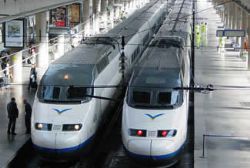 The Regional Chambers of Commerce, together with representatives of other business groups up and down the Costas, have joined together to welcome the this morning's news of the the firm commitment of European Commission to incorporate the 'Mediterranean Corridor' as one of the priorities in the Trans-European Rail Network.
The network is proposed to run from Algeciras, up the length of the Mediteranean coast and across the border to France.
The News of the approval of the AVE line is likely to be very well received by representatives of both the New Corvera International Airport and Paramount Pictures Theme Park, who had jointly hoped to benefit from the line running in close proximity to their location, and which will doubtlessly add to their appeal - both for investors and the public alike.
The anticipated popularity of both the park and the airport have lead to hopes that Murcia may be designated as an important strategic point on the line, and as a result benefit further from other logistical services.
A statement to the press read : "No doubt this is a historic moment, a unique and unrepeatable opportunity, which may involve the comparison of our region to the most advanced in Spain.