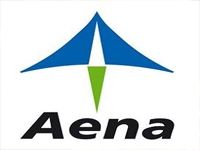 Spanish Airport Authority - AENA - has managed to cut it's 2010 losses by half, from a 352.90 million euro loss in 2009 to a 157.11 million euro loss in 2010, according to accounts published in the Official Gazette,
AENA accounts also show a turnover of 2951.09 million in 2010, up 2.9% on the previous 2009, with Employee expenditure coming down from 2000.44 million euros in 2009 to 1842.08 millioneuros in 2010, meaning that AENA has saved 158.36 million in salaries and social security payments during 2010.
A large percentage of this may be attributed to the reduction of costs for the employment of air traffic controllers, following the change to working conditions - in particularly the excessive overtime allowances. These cost savings, together with an increase in tunrover led AENA to achieve an operating profit (before interest, depreciation and taxes) of EUR 18.05 million, compared to losses of EUR 244, 59 million tduring 2009.
The previous losses are mainly down to the interets payments that AENA must pay for their massive debts - with repayments coming to just under 292 Million euros at the end of 2009.
By 2010 AENA's total debt stood at 13,071.59 million - 812.2 million euros more than in 2009. By the end of 2011 payments will amount to 437.95 million, In 2012, repayments of their loans will amount to 661.10 million, and by 2013, 802.49 million.
The privatization of Madrid-Barajas and Barcelona- El Prat airports are therefore crucial in seeing the company becoming profitable in future years at a time when they have been wodely criticised for continuing to develop many 'white Elephant' airports.