Almeria Airport to be promoted as freight hub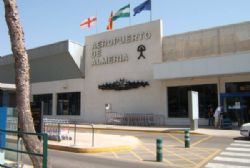 A meeting will be held at Almeria airport on Tuesday of next week, where business leaders and logistics experts are due to discuss the development potential of air freight at the airport.
The meeting has been organised by the Business Innovation Forum, and will highlight the possibilities offered by airlines for the competetive transport of goods from Almeria in areas such as horticulture.
The sheer volume of crops grown in the Province for export all around Europe, together with the financial value of the industry as a whole, makes air freight an attractive choice in the speed and efficiency that goods can be transported with, especially when many products are highly perishable/
Exports from Almeria growers increased at the largest rate in over a decade last year.
The airport currently has the capacity and facilities to respond to any increased demand for cargo freight, and is something that AENA's director at the airport, Santiago Yus, is expected to promote to the region's business leaders.
The news follows yesterday's announcement that the European Commission have made the 'Mediterranean Corridor' High-Speed AVE line a priority in establishing a transeuropean network. The line will pass through the Province, connecting Algeciras to the French border.