Dismissal of SACYR chairman 'Will not affect Corvera'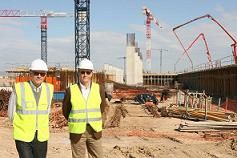 The Minister of Public Works and Planning, Antonio Sevilla, released a statement yesterday, announcing how the decision of the SACYR Board of Directors to dismiss Luis del Rivero, will have no effect on the smooth running of construction and development of Corvera Airport.
The Minister also stated how the decision will not change the strategic direction of the company, and that all contracts and commitments between Aeromur and Corvera International Airport will remain in place. Sevilla went on to empasise that in addition to being responsible for the construction of the airport istelf, SACYR was also a 60% shareholder in Aeromur, who will own the airport upon completion.