Vueling Cut Jerez - Barcelona Route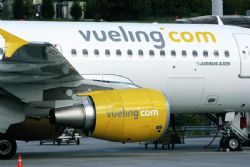 Little more than 12 months ago Vueling announced that they would be operating the Jerez to Barcelona El Prat route during the winter season, beginning on October 29th,which have now had to be cut due to the route not being economically viable.
Vueling reported how AENA together with the Mayor of Jerez, María José García-Pelayo, were forced into making the decision to cease subsidising the route due to the falling demand and the escalating costs.
Airline routes to Jerez from the rest of the world from November are reduced to Barcelona (Ryanair), Palma (Air Berlin) and Madrid (now only through Iberia).
Ryanair will also wind down their London and Frankfurt routes for the winter season, as it has done on previous years.
The head of the CCOO Airline Union, Francisco Calvo, commented that 'If further routes are cut the airport might aswell forget it'.