Applicants may be told 'no work at Corvera'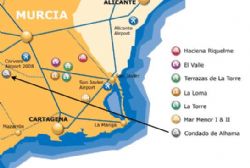 The Ministry of Development is striving to find an agreement with businesses and employees of San Javier airport and Aeromur, in endeavouring to transfer as many positions of employment to the new airport at Corvera as as possible.
However, the main challenge now is to find a satisfactory solution for those employed indirectly at the airports - IE subcontractors and those employed by secondary businesses as opposed to employed directly by AENA. This is estimated to be around 500 people, with some of them having contracts not set to expire until 2020.
The Ministry of the Interior have explained the implications of not honouring these contracts to AENA, in that they may have conisder a number of compensation payments - something which the AENA, together with the Ministry of Development wish to avoid.
AENA together with the Ministries of Development and Public Works are keen to find positions for as many employees as possible at Corvera, and Aeromur, who are in charge of the construction and operation of the airport, agree that the move would provide the airport with a good spread of experienced workers with almost immediate effect.
Compensation received by AENA for the closure of San Javier airport is also expected to be made available for any such compensation fund.
The situation, however, has been further complicated because the Ministry of Labour together with the Municipalities of Murcia and Fuente Alamo have already jointly begun a recruitment drive for the required 1'000 positions at the airport - from which they have received 24'000 applications - and may now be faced with the embarassing task of having to explain that the positions have already been offered to former employees of San Javier airport.
The UGT and CCOO Unions met earlier today to prepare a schedule of meetings with AENA.