PortAventura unveil plans for record breaking attraction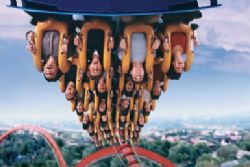 Promotors of the new Paramount Picture Theme Park in Murcia have been regularly quoted in the press with their claim of making the park Europe's biggest and best, to rival Euro-Disney, and questions have quite rightly been asked about PortAventura's response to this move.
The PortAventura theme park, about an hour South of Barcelona, has not had significant investment since it's previous ride opened in 2007, however officials yesterday announced plans for an impressive new roller coaster ride which is expected to be operational ny spring 2012 - three years ahead of official opening date of their rival park in Murcia.
Tarragona's PortAventura theme park is planning to open a record-setting €25 Million mountain climbing-themed roller coaster in spring 2012 featuring a series of camelback hills, pitch-black tunnels and a water element.
The new roller coaster is expected to be named after the mythical Tibetan kingdom of Shambhala, and will be the highest in Europe, standing at 75 Meters tall. The ride will also feature five camelback hills, each rising over 20 Meters, and have the largest drop in Europe at 78 Meters.
The ride will break a third record for being the fastest in Europe, at 83 mph, however it won't hold this third record for long as a roller coaster at 135 mph is due to open at Nurburgring motorsport race track in Germany just a few months later.
Shambhala marks the first new coaster at PortAventura since the 2007 addition of Furius Baco, a hydraulic-launch coaster with seats that straddle the track.
PortAventura officials are expected to release additional details about the new coaster over the next few months.