Alicante Hoteliers call on AENA to resolve differences with Ryanair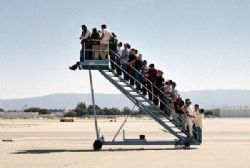 Two hotel associations in the Alicante province (Hosbec and the Provincial Association of Hotels), have called upon AENA to be more flexibile in their approach to Ryanair to prevent the permenant cancelation of 31 flights into El Altet, which is predicted to result in the loss of some 2.5 Million visitors every year.
The British Tourist Board countered that, with more than half of all traffic to the airport coming from the UK, very few of the UK or Scandanavian routes have been cut altogether, and as such should not have a significant impact on the Alicante tourist industry.
The president of the Provincial Association of Hotels, Cristina Rodes, warned yesterday that routes cut by Ryanair to Northern Europe (Norway, Sweden and Denmark) threaten to ruin the growth that the Costa Blanca had been working hard to cultivate over recent years. She specifically mentioned the popularity of the Volvo race being held off the Alicante coast, and the fact that the Scandanavians were an important and growing market for buying the region's unsold properties.
The Alicante Chamber of Commerce, together with the Provincial Government, AENA and the municipalities of Alicante, Elche and Benidorm will meet later today to try and find a solution whereby AENA can resolve their differences with Ryanair. The Regional Minister for Infrastructure has also called further meeting whereby the possibility of future routes can be explored.
However, for now the situation does not look promising, with a spokesman for the airport commenting that AENA's stance has not changed : Between the months of November and April a total of six gates at the new terminal building will be available for all airlines to use for tembarking passengers by foot, and can be used by airlines whenever available.
Ryanair's concern remains their initial agreement with El Altet five years ago was that all flights could be embarked by foot - as offered by all other Spanish airports except Barajas and El Prat - however this has now changed with the arrival of the new terminal building. Michael O'Leary, CEO of Ryanair, claims that airlines are being forced to pay for the use of buses and air bridges that they no longer want or need, in order to pay for a new terminal building that is excessive and bigger than required. As such he has refused to pay the additional costs or pass the costs onto passengers, and is calling for the original agreement with the airport to be honoured.