Marketing for Castellon Airport Underway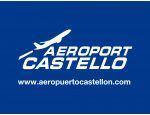 The opening of Castellon airport next year will be central to the marketing plan of the Provincial Tourist Board, which is launched today in encouraging local municipalities and businesses to take part in the 'joint strategy'. The finalised strategy is expected to be agreed and in place by the end of January.
Today's meeting is being held at the Club de Turismo Castellón-Mediterráneo Spain.
Over the coming weeks the Board will consider proposals from companies who stand to benefit from the airport : Beach tourism, Business conferences, Watersports and golf associations etc... It will also meet with other municipalities along the coast and inland, as well as local companies specialising in tourism, but also in attracting visitors from other Spanish regions.
With regards to whether Castellon will benefit from Vueling's departure from Ciudad Real Aiport, where they will cease all operations on October 29th, or Ryanair's cutting of 31 flights, and reduction of 27 others at Alicante airport remains to be seen. Ryanair also ceases operations at nearby Reus airport on November the 6th.
Virginia Ochoa, Departmental Manager of the Provincial Agency for Tourism, commented that they "were different airports, different situations."
Time will tell if Castellon will become yet another 'White Elephant' Spanish airport.