Paramount attracts interest from Arab Investment Forum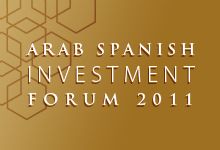 The majority of projects discussed yesterday by the Arab Investment Forum were linked directly to real estate and golf : once the mainstay of tourism development in the regiona, but also largely responsible for the burst of the property bubble and subsequent economic slump which began four years ago.
Such 'Golf resorts', along with the Paramount Pictures Theme Park attracted the majority of interest at the meeting, held yesterday at the Interconinental Hotel at the Polaris World la Torre resort, leaving projects such as the new dock at Cartagena, the Solar project at Lorca and the proposed shopping mall at Aguilas with a question mark hanging over them.
Out of the 11 seperate projects presented to the forum, 7 of them centered around residential tourism foir the region of Murcia.
The project received the most interest was the Paramount theme park, presented by Jesus Samper, the President of the Park's Promoter, Premursa.
Murcia President, Ramón Luis Valcárcel, gave the keynote address, telling attendees that "the opportunities of today can become tomorrow greatest hits" and advocated the "public-private partnerships to exploit new possibilities." Valcárcel also alluded to the opportunities that existed at the new Corvera International Airport.
One of the Forum Organisers, Raouf Abou Zaki, commented : "Murcia has huge investment opportunities and welcomes foreign investors", with co-organsier, Mario Armero, president of General Electric Plastics for Spain and Portugal, agreeing that "The Arab Spring is an opportunity for local business, as there are investments planned in the affected countries, such as tourism, which could end up in Spain."
Among those in attendance were executives from organizations such as The Saudi Fund For Development, The Commercial Bank of Qatar, El-Kuwaiz Economic and Financial Corporation, Investment Bank of Iraq, Blom Development Bank, Faisal Islamic Bank of Sudan, or BankMed Nomura Bank.