Unemployment in Spain Soars to 21.5 pct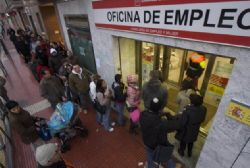 Figures released today by Spain's National Institute of Statistics (INE) have reported how the country's Q3 unemployment increased to 21.5%. Even after a strong summer tourist season, unemployment levels traditionally dip towards the end of the third quarter as temporary contracts come to an end.
Spain's unemployment level is now the highest in the developed world and has jumped from 20.89% in the Q2, with a further 146'000 filing for unemployment benefits.
The third quarter is typically the busiest quarter overall for tourism, which saw increased levels this year due in part to the Arab Spring, which saw many tourists change their choice of holiday destination from North Africa to the more established resorts in Spain.
In broad and general terms the North-South divide has widened further still, with the wealthier Northen regions relying on Industry, Finance and Manufacturing, and the poorer South relying largely on Agriculture and Tourism - both of which have been hard hit over recent years. Unemployment was recorded at just 11.7% in the Navarre region, whereas in Andalusia it was way in excess of the national average at 30.9%.
A statement issued by the INE this morning mentioned how the construction and services sectors saw the largest increases in unemployment.
Spanish unemployment now stands at 4.98 million people.