Ryanair Suspend Routes at Jerez Airport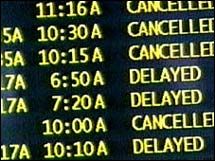 Ryanair yesterday announced a temporary suspension of it's Jerez to Madrid, effective from Sunday.
The Jerez to London route will also be suspended after the last flight leave this afternoon.
Ryanair expect to return the routes to the airport once they announce their summer schedule, due to be released towards the end of March.
However, with the temporary suspension of these two routes, Jerez Airport this winter will only operate flights to three routes over the winter period : to Madrid (Iberia), Mallorca (Air Berlin) and Barcelona (Ryanair).