Reus Airport action group to meet with AENA over Ryanair departure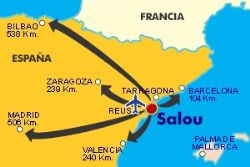 The departure of Ryanair from Reus Airport on November 6 will result in the direct loss of some 88 jobs, but also a further 300 positions who rely on passengers flying into the airport for the livelihoods, according to union officials.
Ryanair will make just three flights from the airport to Dublin before the weekend, when the airline will cease using the airport as a base of operations.
It is thought that just a fraction of the previous flights will return to the airport with their summer schedule, due to be announced in late March, but with no aircraft being based there.
Although it is baggage handling staff, employed by Lesmo Ground Handling, that will bear the brunt of the cuts, unions say that a further 300 workers will be affected in the immediate area in the hotel, restaurant, car hire, car parking and entertainment sectors.
An action group for the Airport, known as the Strategic Committee for the Promotion of Reus Airport, a body composed of the Regional and Provincial governments, chambers of commerce, the municipalities of Tarragona, Reus, Cambrils, Salou and Vila-seca, the port and tourism employers, and has agreed to meet with AENA to discuss the lowering of their charges at the airport.
The meeting has been scheduled to take place after the general election on November 20th.
AENA is believed to be in negotiations with 13 airlines to replace the Ryanair flights that have been cut this winter, with much if the traffic being focussed around the Russian market.
However, for the next five months, Reus will cease to be a commercial airport and simply be used for private flights by the likes of the Aeroclub de Reus, the Centre for Aviation Studies (CESD).
The departure will leave the airport with a shortage of 75,000 passengers which the airline previously brought to the region over the winter months.
The airport has attracted investments of 80.6 million since 2005, and it's popularity grew when the Irish airline set up a base of operations there in 2008, enabling the airline to process some 3 million passengers per year through the airport.