Air Traffic Controller Union Write to AENA President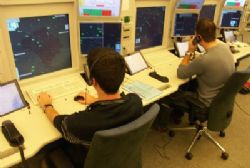 The Union of Air Traffic Controllers Association (USCA) has called upon the President of Aena to confirm that there is not a plot against the Air traffic Controller, according to a report by the newspaper 'El Mundo'.
In a letter delivered to Juan Ignacio Lema at AENA headquarters last Friday, the workers' union claimed that the smear campaign began in late 2009, when air traffic control professionals had to endure being branded " crooks, thieves and kidnappers."
According to the letter AENA then went on to " a number of insulting attacks on workers' rights apply to continue the course perfectly designed plan."
The letter apparently goes on to appeal to President of AENA to "cooperate by providing all the documentation you have to end this nonsense of AENA."
USCA continues that "it is fair to end this as soon as possible, by the unforeseen consequences that can result in hundreds of innocent workers who are involved in a criminal offense they never committed."
The letter is concluded with a final appeal: "Please tell us if you know of any such plan, if so, who way may speak with to clarify the reality of what has happened."