Madrid wastes 50k on report to determin position on Barajas sale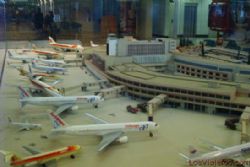 The local government of Madrid has awarded 48,970 euros for a study into deciding what position it should take on the decision to privatize Barajas airport.
The contract, which went out public tender last week, was titled " The study on the strategic positioning of the City of Madrid against the management of the airport of Barajas", and has been awarded to Sener Ingeniería y Sistemas SA for a price of 48,970 euros.
The report will assess the position that the Ayuntamiento should take over the decision made by the Ministry of Public Works to sell their 90.05% stake in both Madrid-Barajas and Barcelona-El Prat airports.
The deadline for submission of bids to privatise the airports ended on October 31, however, the department led by José Blanco finally decided to extend it until January 31, 2012. AENA gave the reason for the extension as 'allowing the seven interested parties time to raise the required levels of investment'.